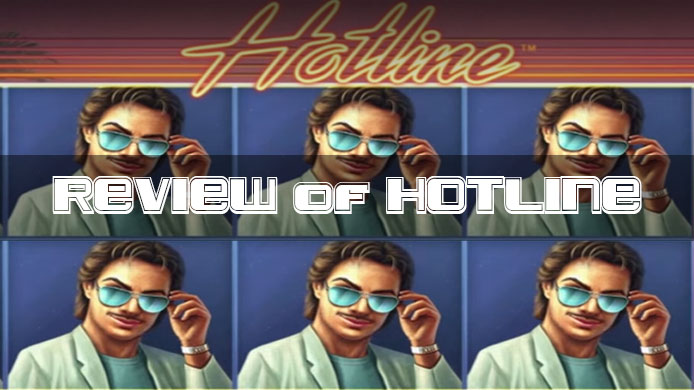 With modern technologies availed, different providers have come up with video slots to entertain gamers. Hotline is one of the fantastic slots provided by NetEnt. The video slot is a five reel and 30 Paylines slots. The game has a theme from Miami Vice which leads a flashback to the 80's which includes the music in the slot. Hotline is available as one of the games in the casino.
Impression and Look
The slot has a beautiful view where the background has a hotel in the front of a beach. There are palm trees visible and the setting sun. There are three symbols in the theme of the game. You will find three pieces of valuable jewellery, a female with a mobile phone, a gangster with shades and a guy with a gun. All these in the 80's form. There is a red sports car which stands in place of all symbols in the scatter.
The slot is initially available in its default form where you can only use one line, but when more money is staked, an option is available for three lines. 15 coins are needed per level if you activate one hotline. The money doubles when two hotlines are activated. When you decide to play with three hotlines, you will have to pay 45 coins.
How to play
To play hotline, there are stages involved. The first step is clicking the coin value section where you set it to the value of your desire. One level section where you set the number of coins per line as required by the player. There is also the Max Bet where you placed the highest bet that you want. There is a spin section which starts the game, and all the reels can move. You can select Autoplay option which runs the reels for a specific number of times selected by the player with no pauses.
Free Spins and Re-Spins
There is a Hotline bonus where free spins and re-spins are earned. All symbols can be replaced by the wild symbol except the scatter symbol. If a wild symbol lands on a Hotline that is activated, it covers the whole reel. After wins are calculated, a re-spin is awarded.If the wild token lands on a Hotline that is active, it includes the entire reel. Free spins are earned when the scatter symbol lands on either reel one, three or five and seven free spins are offered. You can make other free spins while playing.
Conclusion/ Verdict
Hotline is certainly an amazing slot, and all players have got to try it also the music and the symbols used are a resemblance of those from the old times which makes it unique and splendid. The game is not only fun to play but also has this good deal to earn more when played in the online casinos.